Community Support
The YBC kids and the Beaver Valley Bowling Club would like to thank Kootenay Savings Credit Union for their generous donation towards the purchase of additional tournament shirts!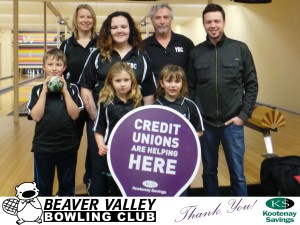 Important Dates
It's coming toward the end of the season.  Here are some important dates and banquet information.  Please let Lori or Amber know if you will be attending!
March 26th -­‐ YBC Cancelled (Happy Easter)
April 2nd – Family Twosome start at 9:30am. (During YBC time)
April 9th – Club 55/YBC in house Tournament 9:30am (During YBC time) April 16th – I Beat My Coach
(during YBC time)
April 17th – Bowler of the Year – 11am
YBC Banquet – April 23th 11am.  Food will be provided for parents and children.  Any extras will cost $5/person.   If you would like to bring something, please let us know.  Please RSVP no later than April 16th.